By Kayleigh Johnson '22, Staff Writer
It is rush week at Lebanon Valley College, meaning that Greek life organizations host events for potential new members, allowing them to get to know the current members of each organization and decide where they belong.
Greek life is a popular way to get involved and meet new people on college campuses.
"Joining Greek life has been a great addition to my life at LVC," Mackenzie Webb, a sophomore early childhood education and special education major and member of Gamma Sigma Sigma, said. "I've met a great group of girls and done a ton of impactful community service."
LVC is home to eight fraternities and sororities, which include Alpha Phi Omega (APO), Alpha Sigma Tau (AST), Gamma Sigma Sigma (Gamma Sig), Phi Lambda Sigma (Philo), Phi Mu Alpha Sinfonia (Sinfonia), Sigma Alpha Iota (SAI), Tau Kappa Epsilon (TKE) and Kappa Lambda Nu (Clio).
APO is a national co-ed service fraternity that was founded in 1925. It was established at LVC in 1960. Any male or female student who is passionate about serving the campus and community are encouraged to join.
AST is a national sorority that was established at the College in 1992. The sisterhood looks to empower young women through service projects. One of their priorities is helping members develop both personally and academically.
Gamma Sig is a national sorority that focuses on community service. Founded in 1952 and established at LVC in 1969, Gamma Sig promotes service, friendship and equality. They welcome young women from all walks of life, bringing them together through service.
Philo is a social fraternity founded in 1867. They look to promote brotherhood and lifelong bonds.
Sinfonia is a national fraternity which established itself at the college in 1960. They are a professional acting social fraternity. A love and understanding of music are essential for men interested in joining. Sinfonia has produced many talented conductors, composers and performers.
SAI is a national professional women's music fraternity, established at the College in 1961. SAI aims to help its members develop their talent and love for music. Interested women do not need to be a music major to join, but a passion for music is necessary.
TKE is a national social fraternity established at LVC in 1988. They focus on brotherhood and connection.
Clio is LVC's newest sorority on campus. It is a social sorority originally founded in 1871 and recently re-founded on campus this year. Clio encompasses the ideas of loyalty, honesty, open-mindedness, friendship, leadership and environmental awareness. It plans to do environmentally conscious service projects to spread environmental awareness on campus and to the surrounding community.
Each organization hosts different events. The sorority Gamma Sig hosted a cookie decorating and Family Feud event on Monday, Minute to Win It on Tuesday and a joint kickball tournament with TKE on Wednesday.
"Rush week is my favorite time of the year because I get to meet potential new members for my sorority and interact with a lot of the other Greek life on campus," Webb said.
Attendance at at least one rush event is required for potential new members in order to receive a bid to join an organization.
This weekend, each fraternity and sorority will choose and induct their new members.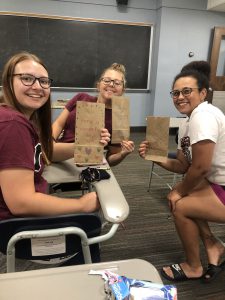 From left to right: Cassandra Thomas, Elizabeth Lyter and Erica Coles-Dietrick at a Gamma Sig event.