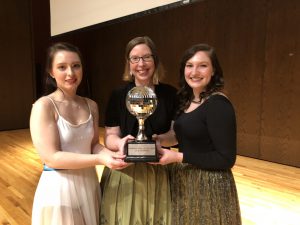 Cassandra Barrett '19
Staff Writer
A new Dancing with the LVC Stars winner was crowned in Lutz Hall.
The second-annual Dancing with the LVC Stars event was held on Friday, Feb. 23, and featured 13 staff and faculty members who laced up theirs dancing shoes to perform with members of the LVC Dance Team. Only one star could be crowned the winner of the mirrorball trophy.
Throughout the evening, the audience cast votes for their favorite dancers by donating money to each dancer's designated money bin. The Dance Team will donate half of all proceeds to the Sexual Assault Resource and Counseling Center of Lebanon (SARCC).
After an evening filled with music, laughter and roaring applause, Maureen Bentz a '00 graduate of LVC and a member of the Vernon & Doris Bishop Library staff, was crowned the winner of Dancing with the LVC Stars, alongside her Dance Team partners, Robyn Meashey, a junior mathematics major and Carolyn Egnik, a sophomore digital communications major.
Egnik and Meashey were both grateful to be a part of Bentz's victory.
"Rob and I are dancers, we're used to being on stage, but Maureen not only stepped out of her comfort zone, but she absolutely killed it last night," Egnik said. "There was nothing better than seeing the smile on her face when her name was called!"
Can't Touch This, a sexual assault prevention and awareness club, partnered with the Dance Team for the event and raised money at their concessions table which will also be donated to SARCC.
The Dance Team looks forward to partnering with more clubs and organizations in the future to put on many more successful Dancing with the LVC Stars events.