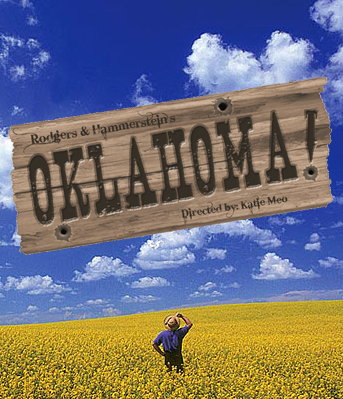 | | | | | | | | |
| --- | --- | --- | --- | --- | --- | --- | --- |
| Production Crew |   |   | Pit Orchestra |   |   | Cast |   |
| Director | Katie Meo |   | Director | Liz Eynon |   | Aunt Eller | Evelyn Unger |
| Stage Manager | Leanne Mercadante |   | Piano | Erin Dean |   | Curly | Mark Naimoli |
| Dramaturg | Dr. Kevin Pry |   |   | Christine Tash |   | Laurey | Katy Raines |
| Vocal Director | Amber Ion |   | Flute | Chelsea Acaley |   | Ike Skidmore | Nathan Campbell |
| Oboe | Kristen Wollenberg |   |   |   |   | Fred/Slim | Joe Sheehy |
| Pit Director | Liz Eynon |   | Clarinet | Megean Lukas |   | Will Parker | Charlie Hopta |
| Costume Design | Stephanie Henrich |   |   | Elba Soto |   | Jud Fry | Elwood Brandt |
| Horn | Becca Schlegel |   |   |   |   | Ado Annie Carnes | Nicole Gollmer |
| Set Coordinator | Elwood Brandt |   |   | Steve Loikith |   | Ali Hakim | Sean Deffley |
| Choreography | Robyn Stine |   | Trumpet | Christa Rusher |   | Gertie Cummings | Christine Nickle |
| Lighting Design | Elwood Brandt |   |   | Andrew Keller |   | Ellen | Morgan Brady* |
|   | Robyn Stine |   | Trombone | Andy Jasinski |   | Kate | Erin McGarvey* |
| Front of House | Lisa Boyko |   |   | Mark Rizzo |   | Andrew Carnes | Ben Long |
| Props Master | Nathan Campbell |   | Percussion | Brian Dempsey |   | Cord Elam | Matthew Howell-Clarke |
| Producer | Stephanie Henrich |   | Violin | Debby Messik |   | Joe | Corey Green |
|   |   |   |   | Brittany Jones |   | Sam | Guillermo Munoz |
|   |   |   |   | Caleb Brown |   | Girl/Girl 2 | Erin Brubaker |
|   |   |   |   | Mary Frantz |   | Vivian | Emily Gertenbach |
|   |   |   | Viola | Kate Lynagh |   | Tom | J.T. Pursel |
|   |   |   |   | Claire Styer |   |   |   |
|   |   |   | Cello | Jackie Klinger |   | Ensemble: |   |
|   |   |   | Bass | Matt Pribisco |   | Allison O'Handly | Katie Campbell |
|   |   |   | Banjo | Guillermo Munoz |   | Bethany Bushner | Katie Hartman* |
|   |   |   |   |   |   | Erica Trapasso | Katy Brodhead |
|   |   |   |   |   |   | Erika Maury | Kristin Turcovski |
|   |   |   |   |   |   | Erin McGarvey* | Melissa Rosenfeld* |
|   |   |   |   |   |   | Justina Ercole |   |
|   |   |   |   |   |   |   | *Soloist |
Technical Crew: Arlene Reiter, Jamie Lynn Latshaw, Dave Anderson, Shelly Sams, Jackie Massey, Daniel Walmer, Arlene Reiter, Jamie Lynn Latshaw, Dave Anderson, Shelly Sams, Jackie Massey, and Daniel Walmer
Spotlights: Mary Katherine Mitchell, Casey Edwards
Sound Crew: Mike Kudrak, Jeff Campbell
Hair and Makeup: Karen Oulahan, Alyssa Bender
Dance Captains: Christine Nickel, Bethany Bushner
It was a turning point in the history of the American theatre, a production so revolutionary in its structure and impact that, in radically transforming our understanding of what could be accomplished in the genre known as the "Broadway musical," it made everything before it seem empty and obsolete by comparison. Its success guaranteed that it would be the model for the next 25 years of musical theatre not just in the U.S.A. but throughout the English-speaking world, and would in its turn come to be seen as a simplistic and tired template best relegated to high schools and community theatres. It founded a tradition of transforming solid stories from other literary genres into crowd-pleasing entertainments, it led to the invention of what is now known as the "original cast recording," and it inaugurated the career of one of America's greatest creative teams. It is, of course, the show Wig and Buckle is proud to bring you tonight, Rodgers and Hammerstein's Oklahoma! Adapted from an award-winning stage play by Oklahoma native Lynne Riggs, the musical first took shape in June 1942, just when 
an American victory the Battle of Midway had turned the tide of war against the hitherto victorious Japanese in the Pacific. As the show's script and scenes were finished, the show's producers, the near-bankrupt Theatre Guild, set about searching for financial backing throughout the rest of that tumultuous year which proved to be the turning point of World War II . Casting the show proved difficult—wartime manpower requirements meant that able-bodied male dancers were scarce, and the show's choreographer, Agnes de Mille, broke the long-standing tradition of using uniformly long-legged lovelies strutting in the chorus in favor of young women with disparate body types who had the technical skills to tell the story through its song and dance as well as its dialogue. Starring musical star Alfred Drake as the cheerily vain cowboy Curly, dramatic actor Howard Da Silva as the obsessed hired hand Jud, and Joan Roberts as the object of their rivalry, the farm girl Laurey, the show went into rehearsal in February 1943. Out-of town tryouts saw the youthful cast swept with a measles epidemic, but painstaking rewrites in New Haven and Boston tightened the show and created a hopeful advance "buzz" for the New York opening, despite vicious attempts to discourage investment in the show by the columnist Walter Winchell, whose mean-spirited New Haven scout notoriously wired back to her boss that the show had "NO LEGS NO JOKES NO CHANCE."
Despite the vindictive Winchell's efforts at sabotage, the show became an instant hit on Broadway. Wartime audiences adored its 'can-do' American pioneer spirit. Celeste Holm, as Ado Annie, made "I Cain't Say No" a crowd favorite, and it and the other songs, despite their being written to reveal characters' inner feelings in the context of the plot, became stand-alone popular hits. This was an enormous departure from previous Broadway practice, which had seen stand-alone songs inserted into weak plots without much attempt to relate them to the show's main action. Though many of the show's best male dancers were drafted into the armed services right after its opening, de Mille's choreography made many of them and their female counterparts household names in the world of dance.
By the time the original run ended after 2,212 performances—a record not surpassed until the advent of My Fair Lady in 1956— road companies and U.S.O. detachments including members of the original cast had toured Oklahoma! acros
s the U.S.A. and the fighting fronts, creating an unprecedented demand for recordings of the whole show. Cut onto multiple 78 rpm discs, the show's album pioneered the marketing of "original cast" recordings. A major movie version, starring Gordon Macrae, Shirley Jones, and Rod Steiger in the leads, came to American screens in 1955, though the casting of the non-singer Steiger meant that the darker aspects of the character of Jud Fry were diminished by cutting the character's showcase brooding number "Lonely Room."
Endlessly revived since, Oklahoma! eventually suffered the fate of many old warhorses of the American musical repertoire—dismissal to ( and often "sanitization" at the hands of) secondary schools and amateur groups, who often strove to follow the movie version rather than the original. Despite this overexposure, its music remains permanently etched in the American popular culture, and fortunately, recent professional revivals at home and abroad have attracted new fans, surprised that this supposed museum piece can still ignite a rousing reaction from audiences. Director Katie Meo and her talented cast, crew, and orchestra are honored to bring this American classic to you, and we hope that in rediscovering Oklahoma! you will experience for yourself the "beautiful morning" that revolutionized the American stage for those wartime audiences back in 1943.
Dr. Kevin Pry,
Associate Professor of English, LVC '76, Dramaturg,
Executive Director/Advisor, the Wig and Buckle Theater Company