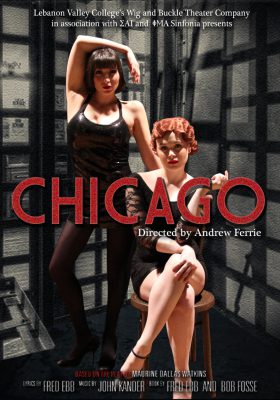 Production Crew

 

 

Cast

 
Director
Andrew Ferrie
 
Roxie Hart
Laura Gingerich
Stage Manager
Alyson Reitmeyer
 
Velma Kelly
Casey Goryeb
Asst. Stage Manager
Alyson Reitmeyer
 
Billy Flynn
Eric Mansilla
Dramaturg
Dr. Kevin Pry
 
Matron Mamma Morton
Jenna Parilla
Vocal Director
Heather Smith
 
Amos Hart
Anthony Hoover
Pit Director
Kristiann Vogler
 
Mary Sunshine
Spenser Prichard
Guest Choreographer
Adam Newborn
 
Liz
Chynna Walker
Assistant Choreographer
Amber Creamer
 
Annie
Margaret Taylor
Assistant to the Choreographer
Catie Packard
 
June
Brittany Soda
Costume Design
Laura Gingerich, Sam Pabon, Kathryn Lewis
Hunyak
Brenna Landes
Hair/Make-up Design
Joseph Chubb, Elise Wysocki
Mona
Kelly Zimmerman
Set Coordinator
Travis Hicks
 
Go-to-Hell Kitty
Vicki Childers
Lighting Design
Nick Hessong, Carli Weldon
Fred Casely
Dillon Streifeneder
Sound Design
Scott Holman, Andy Kittleson
MC
Matt Smith
Property Master
Missy Zellner
 
Sgt. Fogerty/Harrison
TJ Brillhart
 
 
 
Harry/Taylor/Foreman
Adam Abruzzo
 
 
 
Aaron/Clerk
Keifer Kemmerly
 
 
 
Doctor/Bailiff
Joe Chubb
 
 
 
Police Officer/Judge
Nick Durofchalk
 
 
 
Reporters
 
 
 
 
Rosemary Bucher
 
 
 
 
Suzette Madanat
 
 
 
 
Amy Reichert
 
 
 
 
Elise Wysocki
 
 
 
 
Kristen Zlogar
 
Technical Crew: Travis Hicks, Dan Brown, Dee Bogart

Front of House: Katie Costolnick, Meghan Baron, Liz Zeiner, Kathryn Lewis, Kira Echeandia, Rachel Lindt, Sam Oates, Matt Ojeda, Wally Choplick, Adam Rabenold, Marcia Hartzler, Ali Brandecker, Steph Metal, Corlynn Housman, Rachel Snavely, Jenna Chambers, Matt Miller, Jenna Dutton

Hair and Makeup: Joe Chubb, Elise Wysocki, Chrissy Gunther, Jen Denis, Miranda Moyer, Sarah Fritz, Talia Franta, Lisa Forgotch, Catie Packard, Emily Osbourne, Kadie Dasher

Props: Missy Zellner

Costuming: Laura Gingerich, Kathryn Lewis, Sam Pabon

Lighting: Carli Weldon, Nick Hessong

The origin of tonight's show is the subject of a show-business legend: in gin-and-sin-soaked Roaring '20s Chicago, a wisecracking and witty woman crime reporter makes two female killers into such fascinating newspaper copy that they become the popular heroines of a public more interested in good looks than justice; acquitted by all-male juries in spite of overwhelming evidence against them, the women are then made the subject of a satirical play by the same young reporter. The play is such a hit that the young reporter, filled with remorse that her clever writing has made celebrities out of killers, undergoes a religious conversion, becomes a recluse, and refuses all efforts to turn her hit play into a musical; after her death, her heirs sell the idea to one of the great creative teams in the history of American theater, and the result is the sexy, cynical, sassy hit we bring you tonight, Chicago . The problem with this legend, however, is that very little of it is accurate.
In reality, as author Douglas Perry explains in his recent book The Girls of Murder City: Fame, Lust and the Beautiful Killers Who Inspired CHICAGO, our show's actual origins go back to a stage play that was a successful Broadway hit in the 1926 season; written by Chicago cub reporter and lifelong student of Christian theology Maurine Dallas Watkins (a contemporary of Chicago-based reporters-turned-playwrights Ben Hecht and Charles MacArthur, whose play The Front Page appeared the following season,) the play was based on two real-life sensational murder cases which Watkins had covered—the notorious Beulah Annan and Belva Gaertner cases, where beautiful women who shot their lovers were acquitted after competing newspapers made media celebrities out of the killers. Watkins worked for the conservative Chicago Tribune, the city's "hanging" newspaper, and consistently attacked the two defendants as liars whose high-priced corrupt lawyers manipulated public opinion through the media. Following dual acquittals in the two cases, Watkins penned her savage stage satire of Chicago's ineffective law enforcement, its sleazy trial lawyers, and their unsavory and murderous clients. This success was shortly followed by a silent film version, and even later in the 1930s by a sound movie, Roxie Hart, which profoundly displeased Watkins by changing the principal character from a woman who shot her adulterous boyfriend to a wrongly accused innocent; it starred Ginger Rogers as the title-role accused and Adolphe Menjou as her publicity-hound defense attorney.
Watkins went on to pen a few more stage works, then went to Hollywood as a screenwriter for one of the major studios; though industrious and decently prosperous, she did not find the same acclaim, and nothing she wrote ever matched the success of her play. In the late 1940s she turned to her formidable writing skills to one of her favorite causes, the promotion of religious education and fundraising for college scholarships for young women. She did, thanks to the botch-job on her play when it was adapted into Roxie Hart for the movies, resist efforts to turn it into a stage musical, but the stories about her reclusiveness and remorseful conversion as seem to have been fabricated for publicity purposes when her heirs finally sold the rights to her play to producers intent on fashioning it into a Broadway musical.
This musical version, which appeared on Broadway in May 1975, had another thing going for it besides Watkins' brilliant satire, for its production team had already hit it big with an earlier hit about the seamy side of life—they were the creators of 1967's Tony Award-winning Caberet, composer John Kander and lyricist-librettist Fred Ebb. This proven team was joined by legendary choreographer Bob Fosse, who aided Ebb with the show's book and brought its sordid tale of murder, scandal, celebrity-status hunting, and injustice to amazing life with his now-famous sensual dance style. The show starred Fosse's muse Gwen Verdon, (later replaced temporarily by Liza Minelli when Verdon fell ill) and ran for more than two years. Sad to relate, the show did not win the Tonys for its cast and creators, as A Chorus Line swept the awards that year.
New York Times critic Clive Barnes called the musical "brassy, sassy, raunchy;" he explained that another theatrical style was also present in the influences that affected Chicago, that of the German playwright Bertolt Brecht; his "epic theatre" style, which keeps an audience at an emotional distance from the characters so that we can see and judge the flaws and failures of society by being emotionally "distanced" from the story, was eloquently captured by Barnes in his review: "the pervasive suggestion of commentary, of standing aside from a time and a place and hinting at it with a wry, even at times cynical, objectivity, is both the show's salient virtue and also the aspect of it that links it, like an umbilical cord, to Caberet". A triumphant film version of the musical, starring Renee Zellweger, Richard Gere, Queen Latifah, and Catherine Zeta-Jones won the Oscar for Best Picture in 2002.
What we see in Chicago is a funhouse-mirror image of our national fascination not with fame and honor but with celebrity and notoriety; since this musical first confronted us with its rogues' gallery of characters desperate for public attention at any price, we've been constantly reminded that like all good Brechtian theatre, it is making us both laugh and squirm with recognition at familiar behavior. In the land of the O. J. Simpson saga, Court-TV, Casey Anthony on the Internet, and record sales for The National Enquirer, we get what we want and deserve in our public figures—any notice by the world around us seems better than no notice at all, even if the world's attention is attracted by the basest of human actions. The price of those "15 minutes of fame" that Andy Warhol championed is what Chicago is all about, and while you're enjoying the sordid spectacle of Roxie Hart's moment in the spotlight, listen and learn something about our collective yearning for recognition, and ask yourselves if the prize is worth the cost.



Dr. Kevin Pry,
Associate Professor of English, LVC '76, Dramaturg,
Executive Director/Advisor, the Wig and Buckle Theater Company