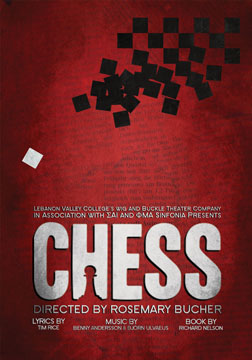 Production Staff

 
 
 

Cast

 
 
 
Director
Rosemary Bucher
 
 
 
Vocal Director
Jenna Parrilla
 
Anatoly Sergievsky
Andrew Ferrie
Stage Manager
Justin Roth
 
 
Freddie Trumper
Chris Dunlap
Pit Director
Dominic Baldoni
 
Florence Vassy
Cassondra Diaz
Dramaturg
Dr. Kevin Pry
 
 
The Arbiter
Katie Boag
Assist. Stage Manager
Emily Osbourne
 
Svetlana Sergieveky
Aileen Koch
Choreographer
Kelley Delaney
 
Alexander Molokov
Dylan Tobias
Lighting Design
Nick Hessong
 
Walter de Courcey
Dan Thomas
Set Coordinator
Dee Bogert
 
 
Leonid Vigand
Blace Newkirk
Props
Dan Brown
 
 
Dance Captain
Stephanie Behrends
Producer
Emily Osbourne
 
US Florence
Rachel Hogan
Costumes
Rosemary Bucher, Andrew Ferrie, Rachel Hogan
US Anatoly
Nathan Lawton
 
 
 
 
 
 
 
 
 
 
Civil Servants
Vocal Ensemble
 
 
 
 
 
 
 
 
Kenny Ayer
Kenny Ayer
 
 
 
 
Kevin Gane
Indiana Bolger
 
 
 
 
Keifer Kemmerly
Katelyn Chamberlain 
 
 
 
 
Blace Newkirk
Larissa Eriksen 
 
 
 
 
 
Kevin Gane
 
 
 
 
Dance Ensemble
Jarrod Goss 
 
 
 
 
 
 
 
 
Stephanie Behrends
Kara Hess
 
 
 
 
Kevin Burke
Rachel Hogan
 
 
 
 
Kara Jones
Kara Jones
 
 
 
 
Sarah Kensinger
Shannon Kane
 
 
 
 
Bryanna Law
Keifer Kemmerly
 
 
 
 
Suzette Madanat
Nathan Lawton
 
 
 
 
Amanda Ringenbach
Blace Newkirk
 
 
 
 
Tsai-Ann Yawching
Kali Rodgers
Chess's production history is complicated, and frankly, rather sketchy. It reads more like a supermarket tabloid than an account of a major theatrical endeavor, with politics, illness, and romantic affairs coloring its difficult journey to the stage. There have been productions of Chess in many major cities with new rewrites for each new production, providing me with lots of reading material in the months leading up to rehearsal. Each production has a wildly different take on the characters' relationships, ultimately finishing with a different ending every time.
In a note included with the London version of script, creator Tim Rice declares, "There have been so many alterations [to] Chess during its turbulent history that we are reluctant to present any variation of the work to the public as the definitive one."
Ouch. Thanks, Mr. Rice. How were we supposed to play a connect-the-dots game with this show when the creator had no idea what to make of it? But his words did help, in a way. He closed his statement by saying, "When in real doubt, refer back to the original album—first thoughts are often the best, and in many respects, I wish we had never changed a note of it."
Per his suggestion, I went back to the original concept album, and worked from there, but I was still at a bit of a loss. How do you tell a story that has so many elements, especially when the story itself changes every time it's performed? But then I got to thinking, and tried to think back to my first encounter with this show, and realized, that's where the real story was—the very first emotional tie people have with this show.
I've loved Chess since my mother first introduced me to it as a child. From the start, I noticed two things: the elements used to tell the story, and how the union of those elements was really the memorable part of the narrative. And suddenly, the more I listened to it, the more I discovered about storytelling as a whole, learning how to combine different artistic mediums—song, dance, lights, art, plot—to create the story. So when I thought to what I first loved about Chess, I realized where productions of this show have gone wrong. They compromised one element of the show for another at different points in the plot. First and foremost, Chess is a story, and that's something that was lost somewhere along the way. Since its inception, it has always been intended to be an unusual and abstract theatrical experience, but focusing on just the music or just the story takes away from the spectacle of it all and ends up compromising the overall experience. We could tell the story best by balancing out these elements, making them all equally important. And once I had that epiphany, I knew where to go. "First thoughts are often the best," indeed.
Tonight, you'll see a production featuring nearly 60 of LVC's most talented students, from its artists, singers, actors, musicians, technicians, staff, and dancers, all collaborating to tell this beautiful story. Wig and Buckle's production is based on the original London production, as the storyline is simpler, clearer, and doesn't include oddities such as dancing astronauts, rapping secret agents, machine gun-toting referees, or random German drinking songs that were added in later revisions of the script. Creative aspects of this production have been inspired by the 1984 concept album and New York, Swedish, Australian, and 2008 concert productions, with special attention paid to the creator's original concepts and ideas. We believe that we are telling you the most cohesive story, one that carefully examines the show's roots while showing the way time (and revision) has made it a lasting and relevant story.
Here's what all the different scripts and productions of this story have in common, and something that we strive to convey to you in tonight's performance: this is a story about passion. Passion for life, for art, for freedom, for occupation, for identity, and most of all, for each other. This is something that the cast, pit, and crew of tonight's show has strongly identified with, as shown by their dedication to telling this story through dance, music, and the performing arts. Compiling elements of this show to tell this story has been a challenging and daunting task, and could not be possible without the help of everyone involved. I'd like to thank the cast, pit, technical crew, artistic team, production staff, and Dr. Pry for making this a truly memorable night in the theater.
Enjoy the show, and thank you for supporting Wig and Buckle!
Rosemary Bucher `14,  Director