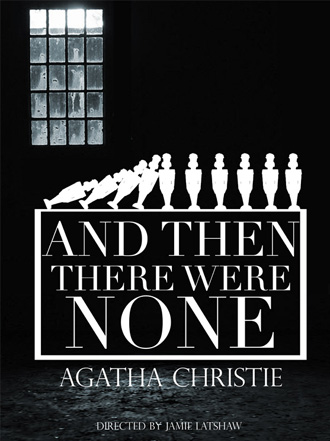 | | | | | |
| --- | --- | --- | --- | --- |
| Production Crew |   |   | Cast |   |
| Director | Jamie Latshaw |   | Rogers | Brian Stefaniak |
| Stage Manager | Jenna Dutton |   | Mrs. Rogers | Rosemary Bucher |
| Dramaturg | Dr. Kevin Pry |   | Fred Narracott | Joseph Chubb |
| Costume Design | Ashley Avenoso |   | Vera Claythorne | Alyssa Bender |
| Hair/Make-up Design | Emily Gertenbach |   | Philip Lombard | Sean Deffley |
| Set Coordinator | Casey Edwards |   | Anthony Marston | Adam Abruzzo |
| Lighting Design | Robyn Stine |   | William Blore | Matt Smith |
| Sound Design | Chris Ulicny |   | General MacKenzie | Corey Greene |
| Props Master | Melissa Zellner |   | Emily Brent | Charelle Bryant |
| Producer | Sean Deffley |   | Sir Lawrence Wargrave | Eric Mansilla |
|   |   |   | Dr. Armstrong | Nathan Campbell |
Technical Crew: Casey Edwards, Travis Hicks, Kathryn Lewis, Chris Ulicny, Jackie Massey, Christian McCardell
Front of House: Jackie Massey, Karen Oulahan, Katie Costolnick, Kathryn Lewis, Arlene Reiter, Sarah Frank, Samantha Oates, Alyssa Bender, Anthony Feudale, Alison Reed, Robyn Stine, Laura Gingerich, Andrew Ferrie
Hair and Makeup: Missy Zellner, Emily Gertenbach, Sarah Kaltreider, Rachel Snavely, Dominique Wilkins, Michelle Krayer
Props: Missy Zellner, Nathan Campbell, Brian Stefaniak, Katie Costolnick, Kathryn Lewis, Robyn Stine, Alison Reed, Matt Smith
Costuming: Ashley Avenoso, Kathryn Lewis, Sam Oates
Lighting: Robyn Stine, Sarah Frank, Tyler Garrett, Natalie Geiger
Our play for tonight began its murderous career as a 1939 novel by the 
Grande Dame 
of English mystery novels, Agatha Christie, whose fabulously formulaic plots of multiple murders in isolated locales have been the guilty pleasures of generations of crime-novel fans. Published under a dreadful
 and now politically and socially unacceptable title—
Ten Little Niggers—
the book was quickly published in the U.S.A. under the title 
And Then There Were None 
and rapidly rose to be one of the most printed books of all time—current computer searches put it as no. 7 on the "world's most published books" list. The tale, in which a group of guests on a secluded island are anonymously accused of having all been guilty of causing the deaths of others and are then systematically killed using methods lifted from an old nursery rhyme, also had its title shifted in some editions to 
Ten Little Indians
, especially in America, where the nursery rhyme used Native Americans as its subject.
By 1943, World War II had broken out, and wartime theatrical producers, eager for escapist vehicles, were clamoring for a stage version, so Christie agreed to rewrite her whodunit for the theater. She changed the ending of the novel, and also changed the name of one of the accused characters from General Macarthur to General MacKenzie in order to avoid a possible insult to the Allied commander in the South Pacific at the time, Gen. Douglas MacArthur. Under its alternative title Ten Little Indians or as And Then There Were None, the slightly different novel and stage versions have been successfully adapted for both movies (in 1945, 1965, 1974, 1987—in Russian, no less—and 1989) and television, where more than half a dozen adaptations in at least four countries have taken to the airwaves. Naturally enough, such a hit has been endlessly lampooned and satirized, in genres as varied as the board game Clue, the 1976 Broadway musical spoof Something's Afoot! and most recently by a September 2010 Family Guyepisode "And Then There Were Fewer."
In its current published stage form, the objectionable 1930s racial and ethnic language has been altered--our mystery now takes place on Soldier Island off the coast of Devonshire, England, and the rhyme is now about "ten little soldier boys" (presumably because in our age of Anglo-American volunteer armies fighting distant wars while most of the folks at home keep on shopping, soldiers are a silent minority). However, the inventiveness of its series of murders, the quirkiness of its cast of killer/victims, and most especially the effectiveness of the plot's "red herrings" (clues intended to mislead or confound would-be sleuths in the audience) continue to delight audiences around the world. Director Jamie Latshaw and a cast and crew of LVC veterans and newcomers have worked hard to bring you this kick-off production of The Wig and Buckle Theater Company's 75th Anniversary Season, so come with us now to that isolated locale, watch your back, and try to figure out "who done it." Enjoy the show!
Dr. Kevin Pry,
Associate Professor of English, LVC '76, Dramaturg,
Executive Director/Advisor, the Wig and Buckle Theater Company