Read the plan: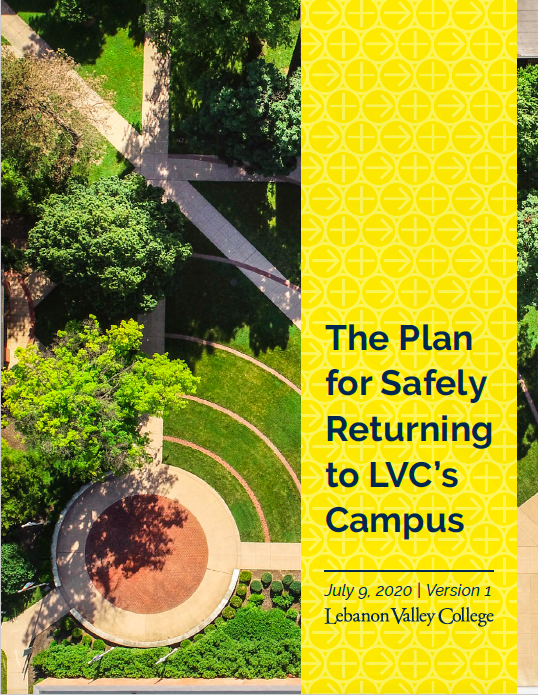 COVIDCampusSafetyPlan_20

The 2020–21 academic year will be different from any time in the history of Lebanon Valley College (LVC). The COVID-19 pandemic has required us to adjust the academic calendar, prepare to meet educational outcomes whether courses are delivered in-person or online, and re-envision how we learn, teach, work with, and support each other as a community. This plan for an in-person return to campus reflects, at its core, LVC's commitment to delivering its hallmark high quality, engaging education that leads to career success while following all the state and federal public health recommendations.[i]
Flexibility, creativity, and innovation will drive our approach during this unprecedented time. LVC's plan builds on insights gained from the rapid pivot to remote learning in the Spring 2020 semester. The faculty will provide intensive time and attention to individual students and small groups, focus on high-impact experiences, and streamline technology across courses. Staff in academic support services, the Bishop Library, the Breen Center for Graduate Success, student affairs, counseling services, and athletics are all designing in-person and virtual student experiences to support students' educational and personal success. Facilities has implemented protocols to support health and hygiene. Information Technology has prepared faculty to teach effectively in the online modality and is ready to support students in the fall. In developing this document, College leadership and a cross-functional Return-to-Campus Task Force followed guidance from Pennsylvania Department of Education (PDE) and Pennsylvania Department of Health (PDH) and the recommendations of the U.S. Centers for Disease Control, & Prevention (CDC). The team researched best practices, consulted with healthcare partners and legal counsel, and coordinated with staff and faculty across campus to develop detailed plans for an in-person Fall 2020 reopening of LVC. Additionally, four faculty task forces developed principles and plans to deliver an academic experience that meets stated learning outcomes. The following is an overview of the College's plans and is intended to help students, their families, and LVC employees understand and make informed decisions about the policies, processes, and expectations for returning to LVC's campus.

---
[i] Given the uncertainty and changing circumstances presented by COVID-19, this plan may be updated periodically.