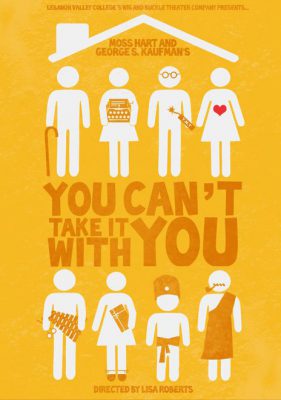 Production Crew

 

Cast

 
Director
Lisa Roberts
 
Penelope Sycamore
Karen Oulahan
Stage Manager
Carrie Becker
 
Essie
Kira Echeandia
Dramaturg
Dr. Kevin Pry
 
Rheba
Jenna Dutton
Costume Design
Marcia Hartzler
 
Paul Sycamore
Sean Deffley
Hair/Make-up Design
Sarah Fritz
 
Mr. DePinna
Nathan Campbell
 
Emily Gertenbach
 
Ed
Keifer Kemmerly
Set Coordinator
Casey Edwards
 
Donald
Dan Brown
Lighting Design
Robyn Stine
 
Martin Vanderhof
Matt Smith
Sound Design
Chris Ulicny
 
Alice
Alyssa Bender
Props Master
Melissa Zellner
 
Henderson
Adam Abruzzo
Producer
Sean Deffley
 
Tony Kirby
Andrew Ferrie
 
 
 
Boris Kolenkhov
Brian Stefaniak
 
 
 
Gay Wellington
Arlene Reiter
 
 
 
Mr. Kirby
Sam Shoemaker
 
 
 
Mrs. Kirby
Missy Zellner
 
 
 
Three Men
Anthony Feudale
 
 
 
 
Scott Holman
 
 
 
 
Adam Abruzzo
 
 
 
Olga Katrina
Charelle Bryant
Technical Crew: Casey Edwards, Travis Hicks, Kathryn Lewis, Katie Costolnick, Brian Stefaniak, Tony Feudale, Nick Hessong, Sarah Kownacki, Missy Zellner, Chris Ulicny, Robyn Stine
Front of House: Andrew Worley, Robyn Stine, Alyssa Bender, Adam Abruzzo, Katy Raines, Katie Costolnick, Jamie Latshaw
Hair and Makeup: Erin Brubaker, Sarah Fritz
Props: Missy Zellner, Sam Oates, Natalie Geiger
Costuming: Marcia Hartzler, Rosemary Bucher
Lighting: Robyn Stine, Carli Wheldon, Nick Hessong
When the show that we are bringing you tonight went into rehearsal for its Broadway opening in 1936, the world was sadly in need of a little comic relief. The USA was still clawing its way out of the Great Depression; millions of unemployed Americans were fleeing the rural ruin of the Dust Bowl or the silenced factories of idled smokestack industries in pursuit of the illusory hope of new jobs. Wall Street capitalists whose irresponsibility had helped trigger worldwide economic collapse denounced trade unions as harbingers of a homegrown Communist revolution among disaffected workers, and J. Edgar Hoover's newly empowered FBI cracked down of dissidents with a fine disregard for the Constitution's guarantees of free speech.
On the international scene, Stalin's brutal Soviet regime was making a mockery of socialist alternatives to predatory capitalism, and as Mussolini's Fascists marched into Ethiopia and Adolf Hitler's Nazis began their programs of racial persecution and international aggression, Japanese armies were terrorizing China. It's no wonder, then, that a little parable about three generations of an eccentric New York family who resist the pressures of the outside world by dancing to the sound of a different xylophone had such an impact on Broadway audiences. The adventures of this fictional family whose house serves as a magnet for one of the most colorful collections of bizarre characters ever seen on the American stage became an instant hit and won the 1937 Pulitzer Prize for drama.
An office romance between the no-nonsense secretary Alice Sycamore—the sole member of her clan to engage with the outside world—and her young Wall Street broker boss Tony Kirby brings this particular menagerie into collision with Tony's stuffy banker father and insufferable socialite mother, and comic complications galore ensue. Along the way, Kaufman and Hart manage to lampoon many of the very real threats to human happiness lurking outside the front door of Grandpa Vanderhof's New York home and poke good-natured fun at everything from the officiousness of the IRS to the government welfare and hobs programs of FDR's New Deal Works Progress Administration (which included the nation's first government-funded arts programs, the Federal Artists, Writers, and Theatre Projects).
Within three years of the opening of You Can't Take it With You, congressional conservatives would kill those arts programs, and World War II would engulf the globe and make the play's charming message of resisting the rat race and putting personal happiness ahead of public concerns seem quaint and naïve. Nevertheless, a highly successful film version of the play would delight wartime audiences hungry for a little escape and ever since, this play has attracted new fans with its craziness, its peculiar characters, and its life-affirming values. Kaufman and Hart's comic masterpiece will always find new admirers whenever times are tough, humane behavior is in short supply, and hope has become a scarce commodity. Lisa Roberts and her capable cast and crew are proud to bring this classic American tale to the Leedy stage as the final production of Wig and Buckle's 75th anniversary season—a season that has been dedicated to the celebration of a tradition of holding the theater's mirror up to nature that dates back to the very year in which You Can't Take it With You first saw the light of day. Enjoy the show!
Dr. Kevin Pry,
Associate Professor of English, LVC '76, Dramaturg,
Executive Director/Advisor, the Wig and Buckle Theater Company