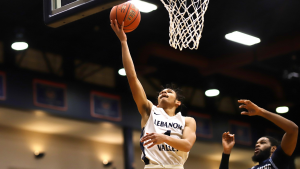 By: Mason Green '22, staff writer
The 2018-2019 season has not started in the best way possible for Lebanon Valley's men's basketball team.
Currently sitting at a 2-6 record, the team has dropped its last five games in a row after starting 2-1.
The young team is still trying to find its stride after a meager start preceded winter break. The team began with non-conference games, resulting in a 2-3 start, but as conference games began the team fell to a 0-3  record in the MAC.
Considering the team's record, the bright side is that they have been competitive in five out of their last six, losing by only single digits in those games. Most recently, the team faced Lycoming College at home on Wednesday, Dec. 5, in its third conference game. From the jump, the game proved to be a close one, with the score 31-26, in favor of Lycoming heading into halftime. The Dutchmen opened second-half action with a 6-0 run to go up by one point, but after Lycoming scored on the next possession to make it 34-31, they never surrendered the lead. From then on it was a tight game but Lycoming pulled away late in the second half to defeat the Dutchmen 63-54.
Jordan Abdo led Lebanon Valley with 13 points and added six rebounds while Chris Anderson followed close behind with 12 points and five assists.
LVC's next game will be Friday, December 7 against Cabrini University at 5 p.m. in Juniata's Doc Green Tournament.
Photo Courtesy of Athletic Communications